Online BBA in International Marketing in Angola
(Integrated with the Chartered Institute of Marketing (CIM), UK)
Two-way live online lectures
5-8 Hours per Day Only Saturday, Sunday Classes.
Texts, Screen casts, videos & lecture recordings on LMS platform.
Online Bachelor of Business Administration in International Marketing (Integrated with CIM, UK)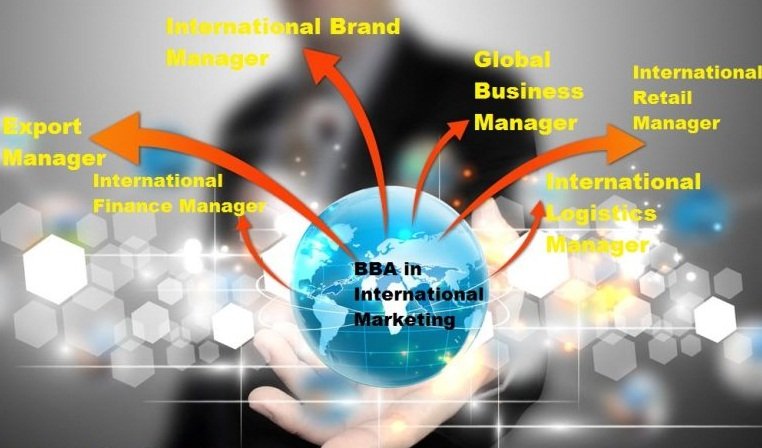 Bachelors of Business Administration, a course that lays foundation for the art of management. BBA in International Marketing in Angola with Chartered Institute of Marketing (CIM) imparts Knowledge related to International Sales, branding and Promotions. Hence Students also learn the art of Managing them self. BBA in International marketing prepares future business leaders in understanding the management of business in the global space. It will enhance the student's critical thinking, problem solving and business management skills. It also provide them the first-hand knowledge of foreign culture and management practices whilst developing an understanding of international economics and business. Therefore plan and Execute the promotion of the said Product accordingly.
Online BBA in International Marketing in Angola is a 3 years, Taught in English furthermore divided into 6 semesters. The duration of Each semester is 6 months.
The Chartered Institute of Marketing was founded in 1911 and is a UK-based professional marketing body. CIM is a strong family of over 30,000 members, including more than 3,000 registered chartered marketers. It has supported, represented, and developed marketers, teams, leaders, and professionals. It promotes responsible marketing practices across the profession to safeguard public confidence and inspire the wider society. This specialization is recognized by the world's leading professional marketing bodies and respected industry-wide.
Program Structure for Online BBA in International Marketing in Angola
SEMESTER 1
English
Business Management
Principles of Marketing (CIM)
Marketing Communications (CIM)
Fundamentals of Digital Marketing (CIM)
Quantitative Techniques For Management
SEMESTER 2
Marketing Management
Organisation Behaviour & HRM
Taxation (ACCA)
Performance Management (ACCA)
Introduction To Business Analytics
Communicative English
SEMESTER 3
Managerial Economics
Customer Insights (CIM)
Digital Marketing Techniques (CIM)
Accounting & Finance
Environmental Science
SEMESTER 4
Macroeconomics
Financial Markets & Instruments
Marketing & Digital Strategy (CIM)
Innovation in Marketing (CIM)
Entrepreneurship
SEMESTER 5
Digital Optimization (CIM)
Digital Customer Experience (CIM)
Resource Management (CIM)
Research Methodology
Personal & Managerial Effectiveness
SEMESTER 6
Operations Management
Strategic Management
Managing Brands (CIM)
Information Systems for Business
Ethics & Values
Marketing Analytics (IoA)
* The Course matrix subject to change based on emerging industry trends and academic requirements.
Value Added Programs in BBA International Marketing on LinkedIn Learning
Business-Analytics by Kumaran Ponnambalam
Business-Law for Managers by Lo Na Williams
Accounting Foundations: Managerial Accounting by Jim Stice and Kay Stice
Managerial Economics by Stefan Michel
Audit and Due Diligence Foundations by Jason Schenker
Why Study Online BBA in International Marketing in Angola?
Eligibility for BBA in International Marketing in Angola
10+2 / intermediate / senior secondary from a recognized Board, or an equivalent qualification as recognized by the Association of Indian Universities, in any discipline with at least 50% marks in aggregate

Students & professionals holding NRE, PIO status, residing outside India and / or students & professionals who are not Indian citizens are considered 'international students' and are ELIGIBLE to pursue online BBA International Marketing degree programe. All such students & professionals will be billed an international fee for respective degrees & may need to submit documents mentioned but not limited to CV, address proof, valid VISA, PR card & passport copy as part of the application process.
           or
O Level Certificate (completing 10 years of formal schooling. Diploma will not be acceptable)
A Level Certificate (completing 12 years of formal schooling. Diploma will not be acceptable).
Certificate of equivalence from association of Indian Universities required from students with foreign education to apply in any university in INDIA. (refer to https://aiu.ac.in/)
Who All should Study Online BBA in International Marketing
Online BBA in International Marketing in Angola Fees $
University offering BBA International Marketing in Angola – Jain University Online
Jain University Online BBA Fees
Jain University Online BBA Fees
International Students
Semester
Fee Details($)
1st Sem
$900
2nd Sem
$900
3rd Sem
$900
4th Sem
$900
5th Sem
$900
6th Sem
$900
Total
5400 $
Note : One-time Registration Fee : $150
Examination Fee (Per Year) : $50
Indian Students
Semester
Fee Details($)
1st Sem
42,500/-
2nd Sem
42,500/-
3rd Sem
42,500/-
4th Sem
42,500/-
5th Sem
42,500/-
6th Sem
42,500/-
Total
2,55,000/-
One-time Registration Fee: Rs.2000/-
Examination Fees (Per Year): Rs. 3000/-
International Marketing Manager
International Product Manager
International Sales Manager
International Retail Manager
International Marketing Analyst
FAQ about BBA in International Marketing in Angola