Study Online MA Public Policy & Administration in UAE
Two-way live online lectures
5-8 Hours per Day Only Saturday, Sunday Classes.
On LMS platform – Videos, Screen casts, Texts & lecture recordings.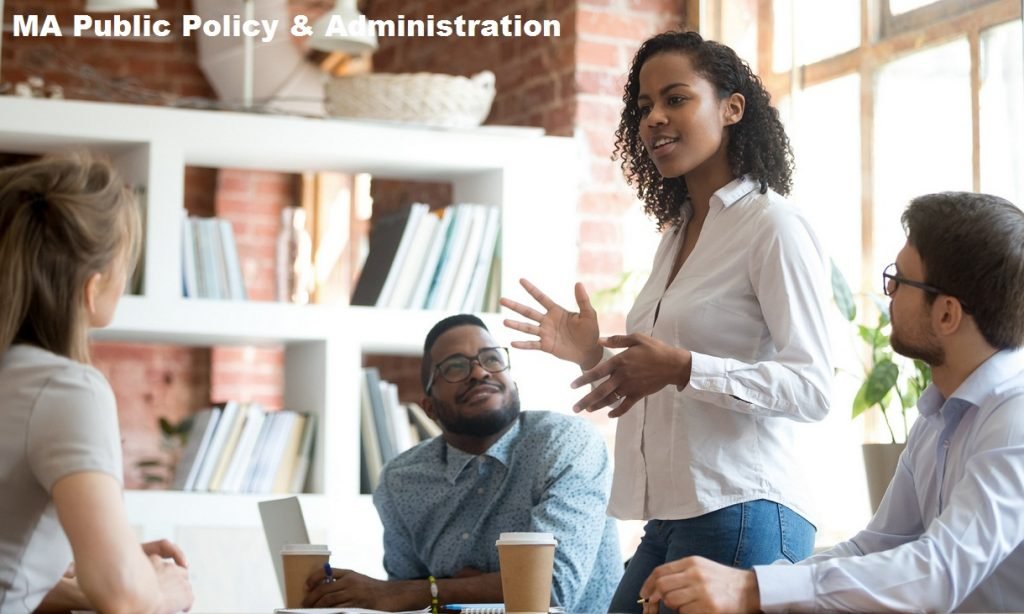 Study Online MA Public Policy & Administration in UAE
Online MA Public Policy & Administration in United Arab Emirates is a 2 years Post graduate Course with teachings related to Indian Public Sector. Hence a Study of policy as discipline with analysis & Evaluation in Indian Administration, development, Governance, Policies and Overall functioning. The Course all insights the performance of Public, Non-Profit sectors and Private Sectors(Grievances & delivery services) along with Decision process. The Course also introduces to interrelationships between different administration of Each State & Society.
Online Study of MA Public Policy & Administration emphasis on rural and urban studies. In fact being a very vast, Remunerative, Thourough Understanding subject of various government policies. (Poverty, Education, Economical Growth, Citizen rules & Regulations and Government programs
Program Structure for Study Online MA Public Policy & Administration in UAE
SEMESTER 1
Art and Culture of India and History of India till 1857
General Geography and Resources of World
Indian Constitution: History and Articles: 1 – 151
Indian Economy – I
Human Values and Contributions of Moral Thinkers and Philosophers
SEMESTER 3
Indian Economy – III
Developments in Science and Technology
India and its Relations with Neighbours and Big Powers
Internal Security and Border Management of India
Governance and Social Justice in India
Open Elective Course
SEMESTER 2
Modern History of India till 1964 and Freedom Struggle
Indian Geography and Infrastructure
Indian Constitution: History and Articles: 152 – 365
Indian Economy – II
Ethics, Attitude, and Aptitude
SEMESTER 4
Modern History of the World
Social Issues of India
Environmental Issues, Disaster Management in India and the World
Ethics, Values Attitude and Aptitude: Case Studies
Cross-Functional Elective Course
Dissertation / Project
* Course matrix subject to change based on emerging industry trends and academic requirements.
Why Study Online MA Public Policy & Administration in UAE
Eligibility for Online MA Public Policy & Administration in UAE
Undergraduate Bachelor Programme pass/ Cleared with a minimum duration of Three (3) years in any stream from a UGC recognized University. English as a Language is must for Reading and Writing.
For Aspirants studied from Non Indian University.
Candidates must have completed Graduation Degree Certificate of university across the globe having equivalence from association of Indian Universities required from students with foreign education or Foreign Nationals to apply in any university in India. (Refer to http://aiu.ac.in/).
Who All should Study Online MA Public Policy & Administration in UAE
Online MA Public Policy & Administration in UAE
Online MBA Offering Top Indian University
Jain University Online Fees
Jain University Online Fees
For International Students Only
Semester
 Fee Details (Rs)
1st Sem
$650
2nd Sem
$650
3rd Sem
$650
4th Sem
$650
Total

 $2600
For Indian Students Only
Semester
 Fee Details (Rs)
1st Sem
30,000/-
2nd Sem
30,000/-
3rd Sem
30,000/-
4th Sem
30,000/-
Total
1,20,000/-
International Aid/Development Worker
Administrative Service Managers
Compensation and Benefits Managers
Medical and Health Services Managers
Property, Real Estate, and Community Association Managers
Public Relations Managers and Specialists
FAQ about Study Online MA Public Policy & Administration in UAE